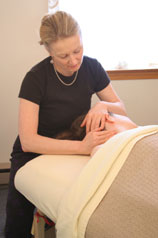 Ildi Ingraham
Licensed Massage Therapist
"I just wanted to say thanks again for that awesome massage. I really felt great afterwards. It was an amazing experience!! I enjoyed being able to just relax and not having to engage in conversation until after the massage. You seem like a wonderful person. Thanks for your time and hard work. Your clients must love you!"

Sincerely,
Olympia C.


"I've never known anything to work for my migraines until I began coming to you. Your massage certainly was "heavenly"!"

Thank you,
Cynthia W.